India is an economically growing country with the service sector amounting to 55% of the overall growth. The rapid urbanization of Gurgaon has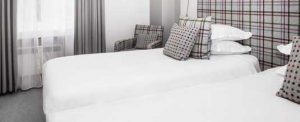 made it one of the top service provider cities in India. Many multinational companies have set up its corporate offices at Gurgaon. It has become a daily affair for the people to travel to Gurgaon on a regular basis for a short duration of time due to business work or official work.
Living in a hotel for few months may prove to be a costly affair for such people and a rented accommodation would not offer the adequate facilities that are required for the living for a short period of time. Hence, the corporate housing provides a temporary housing solution to the problem. Affordable Corporate Friendly Housing in Gurgaon @Gurgaon Guest House can be available with desired facilities of living. In the corporate housing, furnished facilities will be available along with the open parking lot for the transient guest.
Some corporate housing also provides other facilities like AC, wifi, power backup, Geyser and other useful kitchen items. The corporate houses in Gurgaon are available in various segments that are categorized into Regular Corporate Houses and Luxurious Corporate Houses. The guest can choose the type of corporate house as per the requirement and the budget. Both regular corporate dwellings and luxurious corporate houses are available at a cost effective prices.
The guests who are looking for such corporate houses must see the reviews of the transient guests who had already taken the services from corporate houses available in Gurgaon. Some corporate house owners also provide extra services to the clients like transportation facilities, security, travel booking facilities, food facilities, etc. The most important thing while selecting a corporate housing facility is the location which needs to keep in mind.